FARM STORE
Handcrafted products made with certified organic herbs and plants grown on our small farm.
We are an earth centered mom & pop creating small batch, artisan goods grown from the ground up. Our mission is to create the highest quality products with 100% organic ingredients that we can feel good about putting out into our community. These products represent the fruits of our growing season and support the operation of our small farm. Thank you for visiting!
BOTANICAL SPA GIFT SET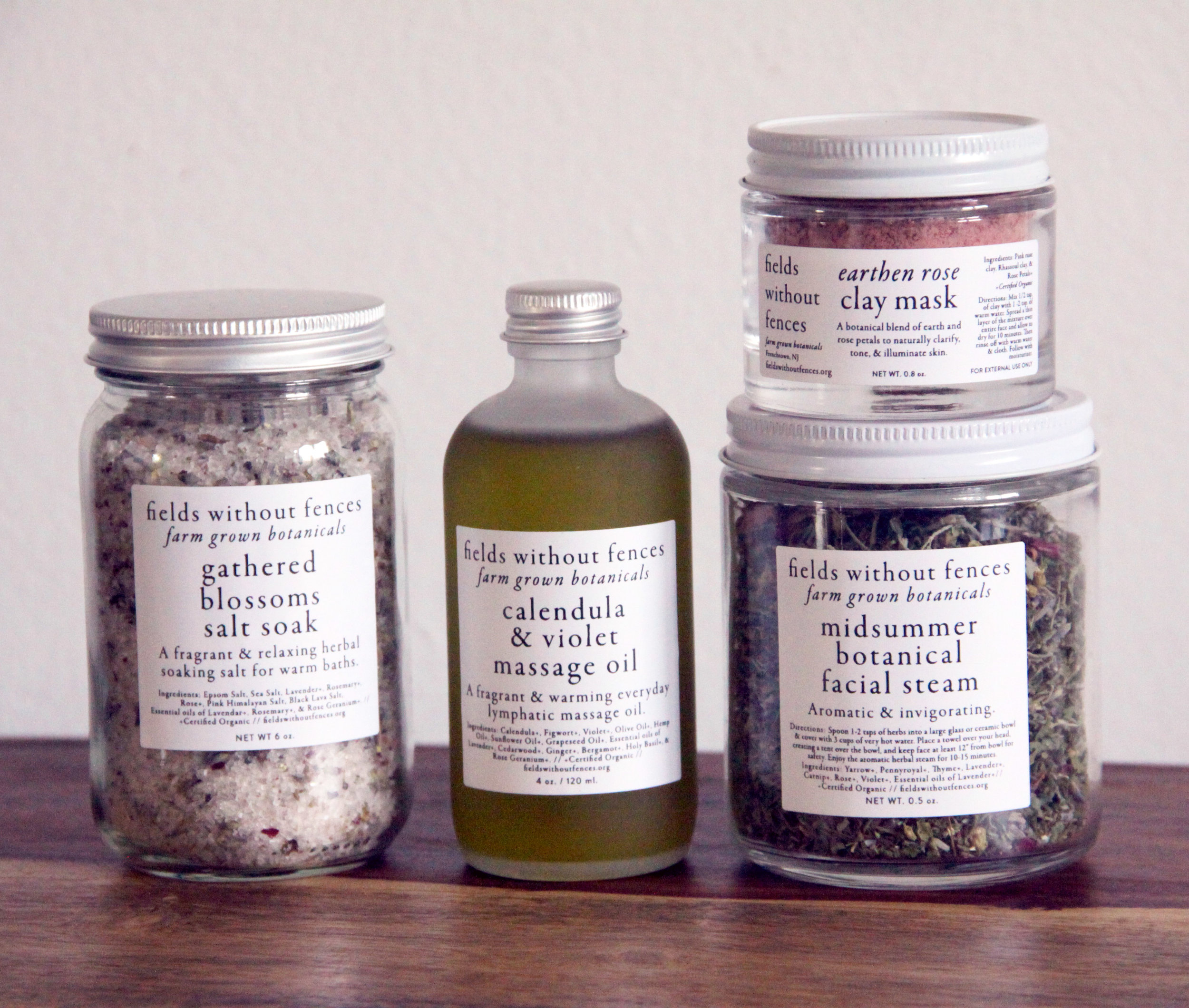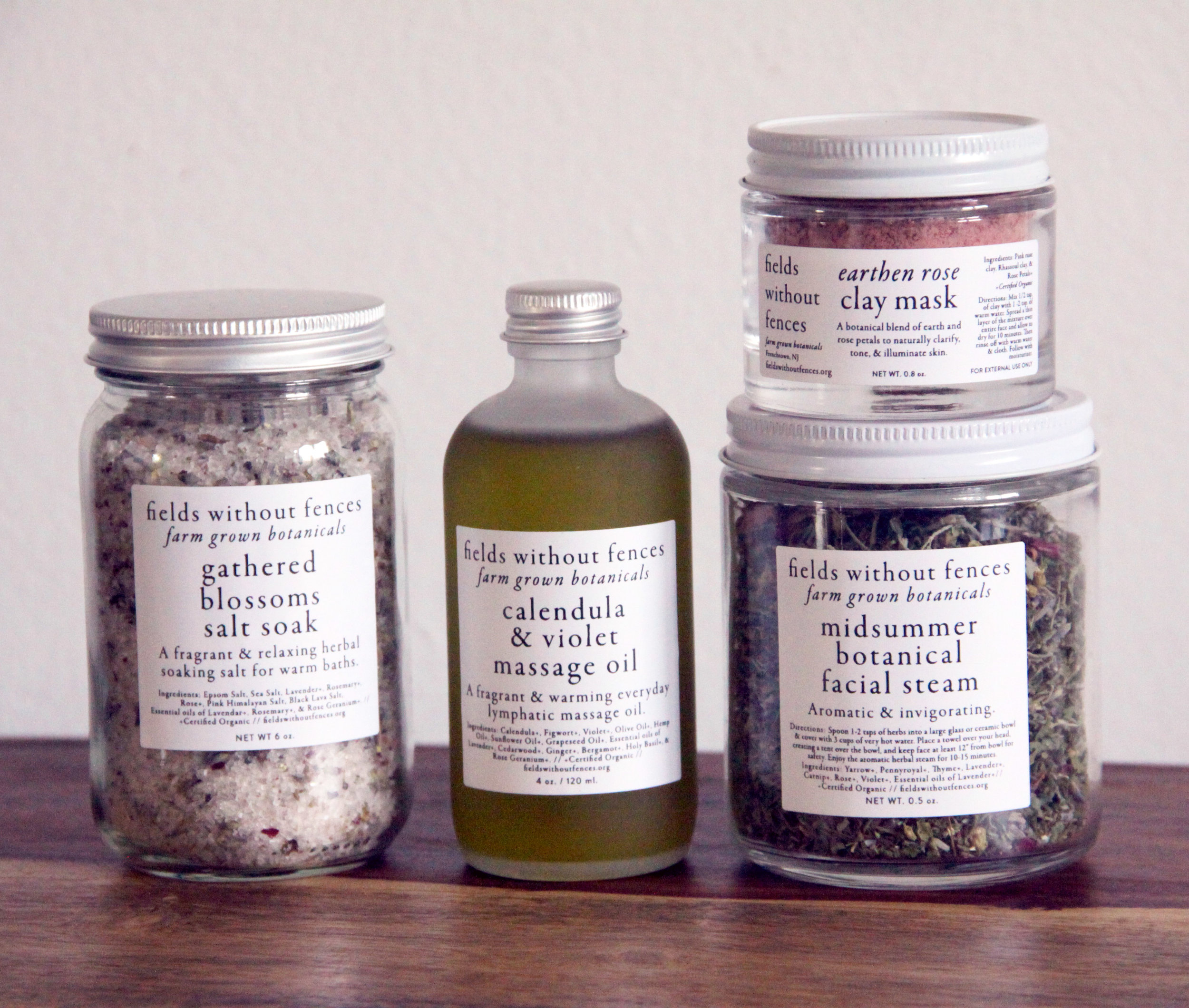 sold out
BOTANICAL SPA GIFT SET
Nourish the body and renew the spirit with our plant based Botanical Spa Gift Set. Handcrafted with organic ingredients and herbs, flowers, roots, & fruits grown on our certified organic farm in Frenchtown, NJ.
Relax and renew with soothing body botanicals from the garden. Practice herbal self care with a ritual salt soak, healing clay mask, enlivening facial steam, and warming lymphatic massage. Revitalize and nourish the skin with earth elements of clay, salt, and plant based oils. Soothe the nervous system with aromatic herbals and self massage. Cleanse, refresh, and relax body and mind. A wonderful earth based gift to yourself or a loved one.
Gift Set Includes:
GATHERED BLOSSOMS SALT SOAK
NET WT. 6 oz.
Ingredients: Epsom Salt, Sea Salt, Lavender+, Rosemary+, Rose+, Pink Himalayan Salt, Black Lava Salt, Essential Oils of Lavender+, Rosemary+, & Rose Geranium+ // +Certified Organic
Description: Salt soaks soothe tired muscles and soften skin. Ritual bathing with aromatic herbs has been part of healing traditions from around the world for thousands of years. This combination of pure mineral salts, magnesium rich soaking salt, and fragrant organic herbs in a warm bath will relax the body and renew the spirit.
CALENDULA & VIOLET MASSAGE OIL
4 oz.
Ingredients: Calendula+, Figwort+, Violet+, Olive Oil+, Hemp Oil+, Sunflower Oil+, Grapeseed Oil+, Essential Oils of Lavender+, Cedarwood+, Ginger+, Bergamot+, Holy Basil+, & Rose Geranium+ // +Certified Organic
Description: This moisturizing body oil is made with a base of spreadable deep penetrating plant oils infused with calendula, red clover, and violet blossoms to nourish skin and promote healthy circulation. Daily massage with this infused body oil enhances lymphatic function, and is a healthy routine to establish. As the infused oils are absorbed, glistening and naturally moisturized skin is revealed.

This nourishing body oil is appropriate for all skin types, and makes a wonderful massage oil as well.
EARTHEN ROSE CLAY MASK
NET WT. 0.8 oz.
Ingredients: Pink Rose Clay, Rhassoul Clay, & Rose Petals+ // +Certified Organic
Description: This rejuvenating, herbal clay combines earthy detoxifying mineral clays and soothing powdered rose petals for a balanced and gently cleansing blend. Gentle enough for most skin types, this all natural clay exfoliates and deeply refines pores, revealing a revived, radiant complexion.
MIDSUMMER BOTANICAL FACIAL STEAM
NET WT. 0.5 oz.
Ingredients: Yarrow+, Pennyroyal+, Thyme+, Lavender+, Catnip+, Rose+, Violet+, Essential Oils of Lavender+ // +Certified Organic
Description: This invigorating fresh and floral herbal steam combines yarrow, pennyroyal, thyme, lavender, catnip, rose, and violet to cleanse pores, cleanse impurities, deeply hydrate skin, while supporting respiratory health and reviving the senses! Delightfully fragrant, aromatic, and great for cleansing stagnation and congestion of all kinds. This herbal blend works well as a facial or respiratory steam.
*For educational purposes only This information has not been evaluated by the Food and Drug Administration. This information is not intended to diagnose, treat, cure, or prevent any disease.