FARM STORE
Handcrafted products made with certified organic herbs and plants grown on our small farm.
We are an earth centered mom & pop creating small batch, artisan goods grown from the ground up. Our mission is to create the highest quality products with 100% organic ingredients that we can feel good about putting out into our community. These products represent the fruits of our growing season and support the operation of our small farm. Thank you for visiting!
WINTER WELLNESS GIFT SET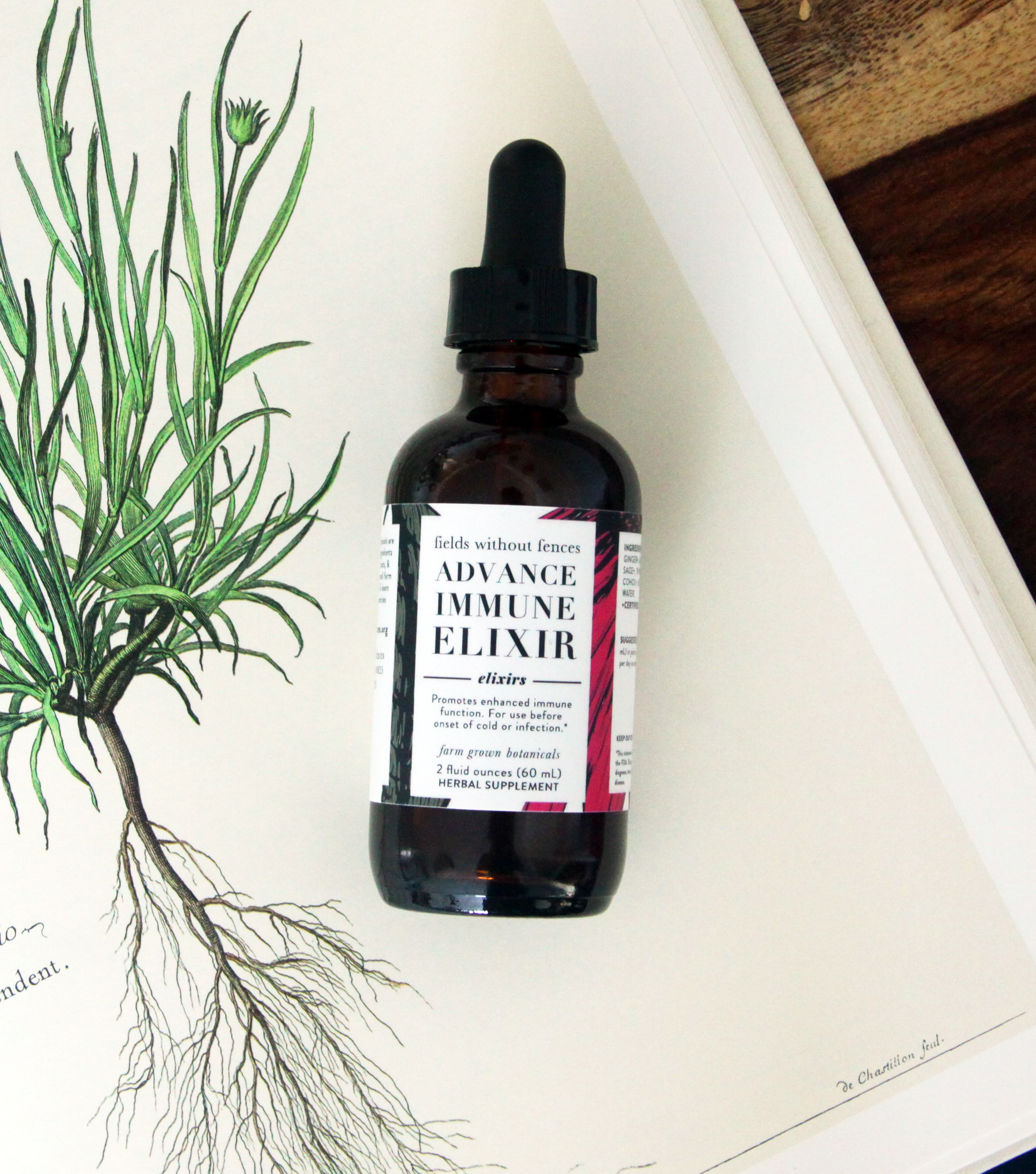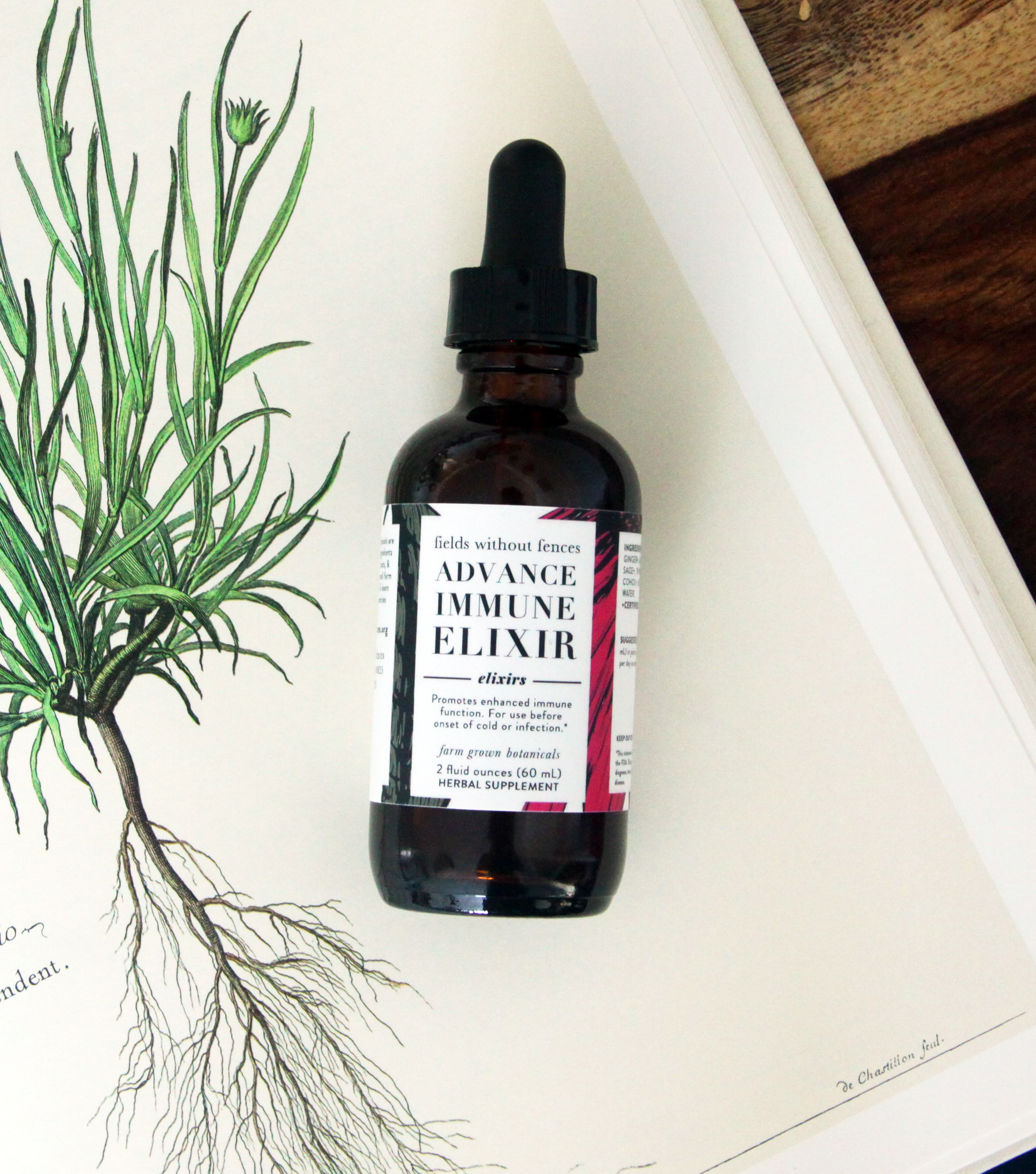 WINTER WELLNESS GIFT SET
A collection of our most essential immune boosting herbals to support you through the cold season! Our gentle and effective botanicals are crafted by hand with organic plants grown on our small farm. This set includes Advanced Immune Elixir, Hot Shot Cider Vinegar Tonic, Echinacea Immune Compound Tincture, Vital Revival Tea, and of course, Elder Elixir!
Gift Set Includes:
ADVANCED IMMUNE ELIXIR
This delightfully zesty combination of strong, yet gentle immune supportive herbs enhances the body's own immune function at the first sign of upset. A fortifying combination of echinacea, ginger, astragalus, and sage supports natural defenses and helps to build immunity. Elixirs are a gentle and sweetly flavored way to experience the power of herbs! Promotes enhanced immune function. For use before onset of cold or infection.*
INGREDIENTS: ECHINACEA+, GINGER+, ASTRAGALUS+, SAGE+, THYME+, GRAPE ALCOHOL+, HONEY+, DISTILLED WATER. / + CERTIFIED ORGANIC / 2 oz.
HOT SHOT CIDER VINEGAR TONIC
A traditional blend of herbs and spices in a vinegar and honey extract used to support the immune system, stimulate digestion, and increase circulation. This zesty combination of apple cider vinegar and honey infused with antimicrobial, decongestant, anti inflammatory, and circulatory stimulating ingredients like garlic, ginger, turmeric, and rosemary is easy to incorporate into your daily diet. Take straight by the spoonful, or add to vegetable juice, sparkling water, salads, or marinades for a fiery kick. Promotes digestive function, enhances circulation, and supports healthy immune function.*
INGREDIENTS: APPLE CIDER VINEGAR+, ONION+, ORANGE+, GINGER+, HORSERADISH+, GARLIC+, HONEY+, ROSEMARY+, TURMERIC+, CAYENNE+, & CLOVE+ / + CERTIFIED ORGANIC / 4 oz.
ECHINACEA IMMUNE COMPOUND TINCTURE
This concentrated extract formulation combines the roots and flowers of echinacea in a powerful immune stimulating tincture. When taken at the first sign of a cold or infection, echinacea supports the production of immune antibody cells. Echinacea also enhances lymphatic function, and can aid the body in normal toxic eliminatory function. This compound should be used every two hours at first onset of upset in order to be most effective. Support healthy immune function.*
INGREDIENTS: ECHINACEA CONE+, ECHINACEA ROOT+, GRAPE ALCOHOL+, & SPRING WATER / + CERTIFIED ORGANIC / 1 oz.
VITAL REVIVAL TEA
A fragrant blend of warming herbs traditionally used to support recovery from cold and flu. This take on a traditional tea formula for cold relief includes the aromatic, stimulating, and relaxing diaphoretic herbs yarrow, peppermint, & elderflower. Our blend uses these herbs as a foundation and includes catnip, sage, and ginger for added balance. Supports immune function* INGREDIENTS: PEPPERMINT+, GINGER+, YARROW+, ELDER FLOWER+, & SAGE+ / + CERTIFIED ORGANIC / CAUTION: Not for use during pregnancy. 25 Servings.
ELDER ELIXIR
Elder was traditionally known as "Nature's medicine chest" for the many powerful remedies derived from this plant. Traditionally used as an immune system tonic for cold and flu, recent research trials have indicated elder is effective at inhibiting viruses like influenza, and reducing the length of time cold and flu symptoms persist after onset. Rich in antioxidants, vitamins A and C, calcium, and potassium, elderberries are a powerful natural resource for immune system support. Elder Elixir is a concentrated blend of all natural organic ingredients in a delightful syrup to be enjoyed daily by the spoonful for cold prevention and anti-inflammatory effect. Promotes immune function. Balances inflammation.* INGREDIENTS: ELDERBERRY+, GRAPE ALCOHOL+, HONEY+, ELDERFLOWER+, ROSEMARY+, LEMON+, DISTILLED WATER. / +CERTIFIED ORGANIC / 4 oz.
*For educational purposes only This information has not been evaluated by the Food and Drug Administration. This information is not intended to diagnose, treat, cure, or prevent any disease.